School Sport
'Be the best you can be'

Help our children to
'Be the best they can be'
Norton In Hales currently hold the following awards:
A Youth Sport Trust scheme to

reward a school for the quality of their

PE and School Sport practice.

A Government led scheme to reward a school for their commitment to the development of competition across their school and into the community.

We are delighted that in 2018/2019 we have been awarded the PLATINUM award.

We have been awarded Gold in 2014-2015, 2015-2016, 2016-2017 and 2017-2018.
Click the School Games Logo below to link to our sporting blog and latest photos from events
Celebrating our children's sporting achievements
Below are the results and reports from a range of competitions our children have taken part in during 2019/20. These include competitions within school (Intra-school), those where the children have competed for school (Inter-school) and also external competitions.
Personal Challenge (Level 0 Competition)
This year we have introduced the bleep test and speed bounce as personal challenges in P.E. Children will do both activities three times over the course of the year, each time trying to better their both result from the previous event, and a new target set based on their earlier score.
Market Drayton Area School Sport Partnership:
Inter-School (Level 2 Competition)
Thursday 21st March 2019
KS1 & KS2 Dodgeball
Children from both key stages took part in the Dodgeball competition at the Maurice Chandler Centre - Well done everybody!
Tuesday 7th May 2019
KS2 Rounders
A squad of 12 from Years 5 & 6 travelled to The Grove to take part in the small schools rounders competition.
Wednesday 22nd May 2019
Year 3 & 4 Mini Red Tennis
Well done to the 4 children who represented Norton-in-Hales at the Tennis Competition you did us proud!
Wednesday 19th June 2019
KS1 Mini Red Tennis
Well done to the 4 children who represented Norton-In-Hales at the Tennis Competition you played amazingly
Wednesday 10th July 2019
Year 5 & 6 Tennis
This morning it was time for our Year 5 & 6 children to shine at Tennis well done!
Thursday 11th July 2019
KS1 Football
Today we took a squad of 7 to Market Drayton Junior School to play football. The children thoroughly enjoyed themselves and as always did the school proud
September 2019
Year 5 & 6 High 5 Netball
Finally the children were able to play their netball competition as it had been cancelled a number of times due to bad weather. Well done everyone.
Thursday 3rd October 2019
Sportshall Athletics
All the children from Year 1 - 6 were given the opportunity to take part in this years Cross Country tournament and we had an amazing response. The results were amazing. Year 2 Girls 2nd Place, Year 2 Boys 3rd Place, KS1 Overall School - 3rd Place. Year 3 Girls 3rd Place. Well done to everyone who took part.
Thursday 21st November 2019
Quicksticks Hockey
Today a group of KS1 and KS2 went to the Maurice Chandler Sports Centre to take part in the Hockey Competition. The children had a great time, well done everyone!
Thursday 16th January 2020
Sportshall Athletics

This morning a group of 10 children attended the Athletics competition. They all had a great time taking part in the range of activities. Now time to wait for the results!!!
Future Events this year include:-
Thursday 12th March 2020- Dodgeball Competition
Sports News
Platinum for Norton
We are delighted to announce that we have just received confirmation that we have achieved the PLATINUM award from the School Games board. This is the highest award possible as we are very proud that our sport and P.E. provision has been given such an accolade.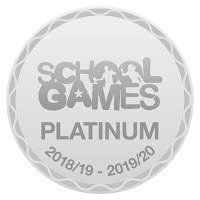 What's On
After School Clubs
From Monday 6th February to Wednesday 24th May 2023 school will be offering the following after school clubs.
Monday

KS1- Lacrosse
Tuesday
Whole School-Arts Award
Whole School- Gardening Club
Wednesday
KS2- Lacrosse
KS1- Craft Club
Thursday
KS2- Cooking Club
KS2- Book Club
Accessing Local Clubs
If your child enjoys a sport they may wish to pursue it through a local club. We have brought together details of local clubs which your children may be interested in joining.
Simply click here to access information and contact details for local sports clubs